OUR GIRL STUDENTS REPRESENTING CHANDIGARH IN NATIONAL CRICKET TOURNAMENT
Congratulations Chandigarh. Chandigarh Women Cricket Team Versus Telangana Match. Chandigarh Women Team won by 21 Runs. 146/5(20.0) vs Telangana Womens 125/10(19.0).
Cricket team of Visually Handicapped Girls representing Chandigarh in Nationals. It constitutes 5 of our Institute's students, 6 of our Ex-students & rest 3 are from Punjab. We wish them all the success for the matches ahead.
CHAMPIONS OF INDIAN BLIND SPORTS MEET
Institute for the Blind, Sector 26 Chandigarh are the Champions of Indian Blind Sports Association (IBSA) Meet organized at New Delhi from 14th to 16thDecember 2022. The Institute won 6 Gold Medals, 9 Silver Medals and 14 Bronze Medals in this Meet with overall Championship in three categories. The championship is organised by (IBSA) biennially. It offers 336 prizes to be won by 550 participants from nineteen states all over the country in different categories during three days. We have seen similar results by the students of this Institute in previous such meets. We would like to congratulate the participants, their guide-runners as well as the subordinate staff, for their achievement.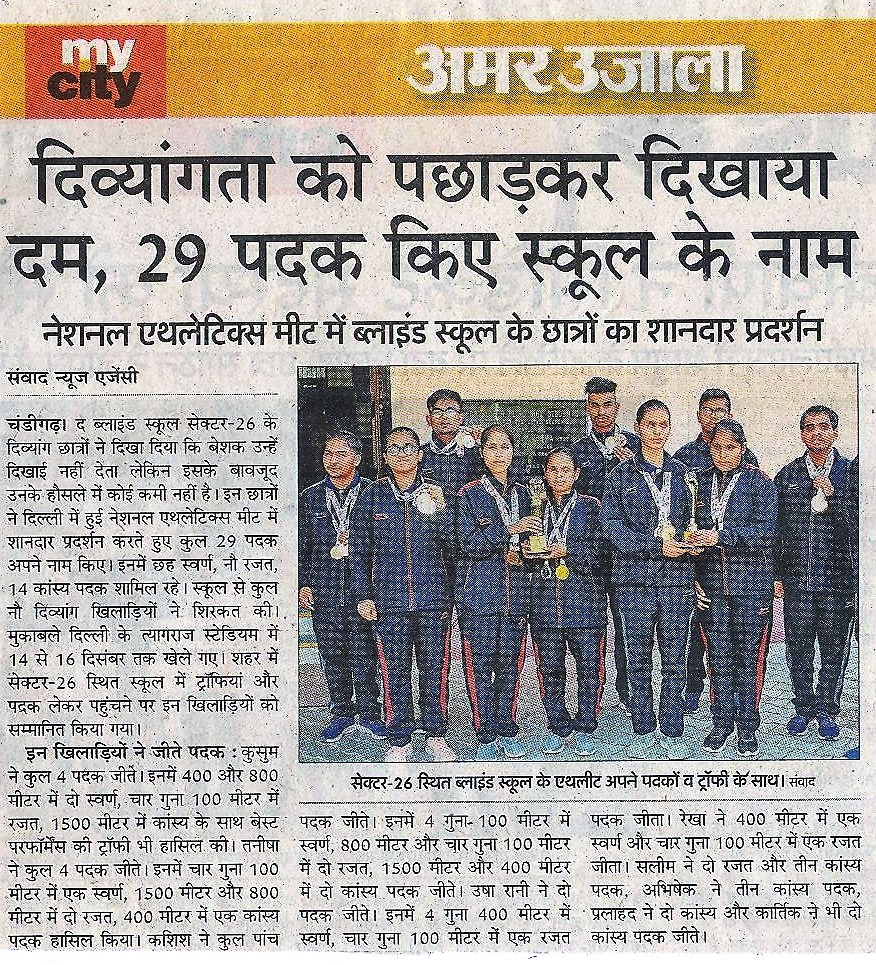 Sports
SPORTS ACHIEVEMENTS:
Indian Blind Sports Association, New Delhi organised 21st National Athletic Championship  for the Blind from 10th to 13th December,2018 at Thyagraj Sport Complex, New Delhi. 17 Athletes of our Institute participated and brought laurels to the city beautiful as well as glory for the Institute. They  bagged 20 medals out of which Seven Gold, Five Silver and Eight are Bronze medals and also grabbed two championship trophies. This remarkable performance was widely covered by media to motivate and inspire others.
 It is worthwhile to mention here that for the first time workshop known as Goal-ball was organised in Delhi in which our Athlete's exhibited remarkable performance.
30 students participated in the 4th Punjab Half Marathon (5 km) held at Sukhna Lake on 7th October 2018. It was highly appreciated by the organisers that these visually impaired students are having the spirit of National Integration.
In the 18th National Para-Athletic Championship held at Tau Devi Lal Stadium, Panchkula from 25th to 29th March, 2018, One of our bright students Miss Divya won two Gold Medals in which is a commendable achievement. No doubt others students will emulate her.
SCHOOL BAND
The School Band participated in the Republic Day parade on 26th January, 2019 at Parade ground, Chandigarh. They marched with martial enthusiasm and were rewarded with third position.